John Brown
Age: 23
Location: Portland, Oregon
Email: JLB333PDX@aol.com
Madonna Faves:
Fave Video: Vogue, Original American life Video, Ray Of Light, Express Yourself
Fave Album: Immaculate Collection, Music, Ray of Light, Something to Remember
Fave Movie: Swept Away- I loved the movie, Its not as bad as people say it is!!
Fave Concert: Drowned World Tour because I went to it, but I wish I could of been old enough to go to the Blonde Ambition tour, I did see it on HBO though when it was on way back then :).
Fave Look: She has looked great lately, her recent appearances on David Letterman and Regis she looked awesome.
Fave Memory: The Drowned World Tour
Fave Quote: On American band stand, when they asked her what she hopes to accomplish, and she said "To Rule the World"

Learn more about John!
I am 23 years old living In Portland Oregon with my Boyfriend Steve. I love to hang with friends, travel, I am really into pop culture..

Have you met Madonna?
Well, at the Drowned World tour she invited me up on stage and then I got to go backstage and we talked for like an hour. We had the most amazing conversation. Then I woke up!!!! So no I haven't got to meet her yet.

What's a way you show your love for Madonna?
By being an awesome fan, and not giving up on her just because her Album sales aren't doing that great. So many so called fans get so mad and think that she is over just because her album sales have dropped.. Who gives a fuck..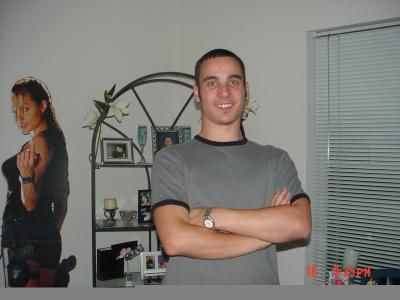 John did a great lip-sync rendition of "Nothing Really Matters" at the Portland birthday party for Madonna!