Meg Stanley
Age: 25
Location: Olympia, Washington
Email: meg@togi.com
Madonna Faves:
Fave Song: Burning up, Spotlight, Physical Attraction, La Isla Bonita, Open Your Heart (extended version), Angel (live), Nothing Really Matters, Nobody's Perfect, Mergirl, Bad Girl, Take A Bow, Power of Goodbye, Shoo-be-doo, Sooner or Later....and the list goes on. *IF I KEEP GOING, I AM JUST GOING TO NAME EVERY SONG, AS I ABSOLUTELY LOVE THEM ALL! NO JOKE, HOW CAN I PICK ONE, YOU KNOW!*
Fave Video: Drowned World,/Substitute for Love **Absolutely the best, most heartfelt video of hers I believe**
Fave Movie: Desperately Seeking Susan, and Swept Away
Fave Concert: Blonde Ambition looks amazing, though I did not get to go! I saw Who's that Girl Tour in Washington, and Drowned World Tour in Vegas.
Fave Look: EVERY LOOK fits every emotion and stage she is going through, and I love them all, again I cannot pick one.
Fave Quote: "You can hear me, and you can see me, but you can never touch me), ain't nothing like the real thing."
Fave Memory: There are so many- I guess I loved the time of the sex book release, and her direct attitude. I really don't have one specific memory that I can say about. I enjoy all the memories of her dancing and inspiration. But most of all when I think of her I think about her drive, and how she has more drive and inspiration than I can imagine, when anything questionable comes to mind in my life I see her and a positive influence for reasons to drive myself to success and happiness.
Learn more about Meg!
Have you met Madonna? I wish.

What is your favorite item in your collection and why?
I have an extensive direct collection of signed LP's from someone I met coincidently, and I enjoy them because they are personal, and excellent signatures.

What's a way you show your love for Madonna?
I listen to all variations of her music everyday and I take her influence with pride.
Any personal messages you would like to share:
How amazing of a woman that we get to experience. Throughout the beginning of her public music career, I have followed her through her stages like many girls had-and in turn which indirectly guided me through my stages of life as well. I thank her for that. For the inspiration and for the drive to be able to express myself for who I am.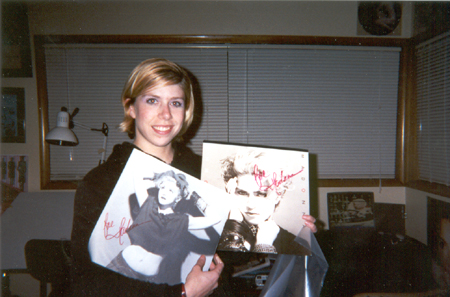 Meg shows off some of those amazing autographs!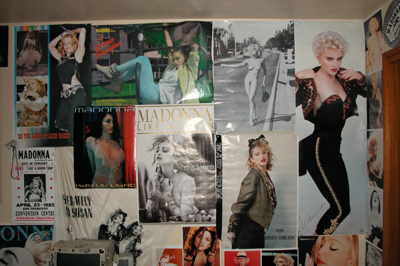 What an amazing collection, are we drooling or what?