Allison F.
Age: 21
Location: Illinois
Email: Lv2return@aol.com
Madonna Faves:
Fave Song(s): "Holiday," "Gambler," "Into the Groove," "Like a Prayer," "'Til Death Do Us Part," "Bad Girl," "Secret," "This Used to be My Playground," "The Power of Good-bye"
Fave Video(s): "Burning Up," "Borderline," "Papa Don't Preach," "Like a Prayer," "Bad Girl"
Fave Movie(s): Desperately Seeking Susan, Who's That Girl, Truth or Dare, A League of Their Own
Fave Concert(s): The Virgin Tour, Blond Ambition
Fave Look: early eighties with the tousled hair, rubber bracelets, and midriff-baring shirts
Fave Memory: This would have to be the night of her August 28, 2001 concert in Chicago. Before the concert, my mom and I went to a place called Excalibur, where there was a pre-concert party. They had an "Express Yourself" dance contest. Being the shy person that I am, I don't know what the heck it was that got me to go onstage and dance (totally unrehearsed, I might add) to "Material Girl." The audience was cheering me on, and I was a winner, too! I wasn't even that nervous when I got up onstage. In fact, when I had finished, I exclaimed: 'I want to do it again!' That night was made even greater, because, after the party, I got to see Madonna live in concert "for the very first time!" I kind of like to think, that, in some crazy way, Madonna gave me the courage to go up onstage that night and to express myself. Thank you, Madonna! :O)

Fave Quote: "I'm tough, ambitious, and I know what I want. If that makes me a bitch, okay."

Learn more about Allison!
Have you met Madonna? As of yet, no.

What is your favorite item in your collection and why?
Hmm.....not that I don't love every piece of Madonna memorabilia that I own, but, I would have to say that my VHS of A League of Their Own is my favorite, because that was the movie that made me a fan a Madonna. Plus, I love my Something to Remember CD, my first Madonna album, as well as the very first picture of Madonna to decorate my wall: the "Spain" poster.

What's a way you show your love for Madonna?
I support all of her efforts and career moves, even if I don't agree with them or understand them. But I still support her, and that's what counts. I support her because I know that whenever she does anything, it's because SHE wants to do it, and I totally respect her for that.

Any personal messages you would like to share: Even though she may not be putting it on balloons anymore, I still believe in her ultimate message to her fans: "Dreams come true." Madonna has unquestionably proved that, with hard work and determination, anyone can become who they want to be and do what they want to do. You just have to be willing to put in the effort and to take a chance. And, of course, you gotta "Express Yourself!"

If anybody wants to talk, or buy/sell/trade Madonna goodies, just e-mail me! I'd love to hear from all you fellow Madonna fans out there!

I also do original Madonna art works, so, if anyone is interested, just let me know. I donated one of my small pieces (they're all small) :o) to an AIDS charity auction, and it sold for 50 dollars!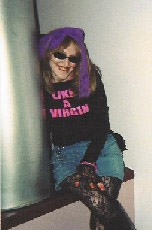 Allison shows her 80's style!